Goodyear Retains Auto Bild Summer Tire Manufacturer of the Year Award
The prestigious German automotive publication and tire tester Auto Bild has awarded Goodyear with its 'Top Manufacturer: Summer 2023' award1 for the second consecutive year2. Testers recognised the consistent performance of Goodyear's range of premium summer tires throughout its thorough tests of some of the market's most popular brands.
The magazine presents this prestigious award to the tire manufacturer that has achieved the best overall result of the summer test season.
The magazine's testers praised Goodyear's summer range: "The premium manufacturer Goodyear landed at the top of the rankings three times with exemplary results. The current tire models Eagle F1 Asymmetric 6 and EfficientGrip 2 SUV deliver convincing dynamic performance and future-proof sustainability3."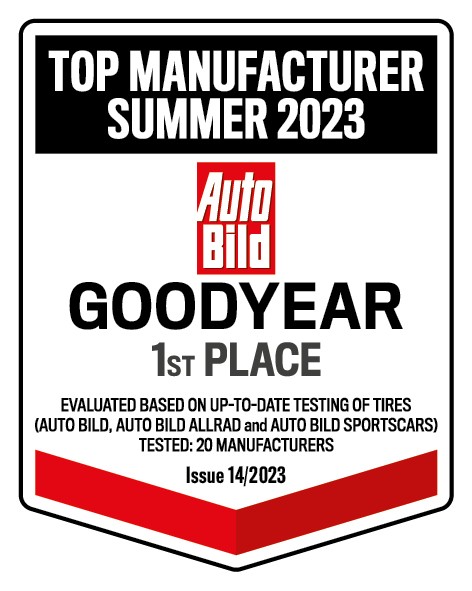 Tire test success across Goodyear's summer range
Eagle F1 Asymmetric 6 is Goodyear's latest ultra-high performance (UHP) tire designed for a wide range of cars, including the latest EVs and SUVs. During a recent test, Auto Bild described the tire as having "exemplary performance on wet and dry slopes [with] outstanding mileage4." The tire ranked first place out of 50 other summer tires while also being named "Eco-Master" for its efficiency. Goodyear's test winner was the only tire in the test to receive only positive feedback.
The tire also ranked on the podium during Auto Bild sportscars' test5, hailed for its sporty and direct handling "with good feedback, well-balanced, good safety reserves in the event of aquaplaning, short wet and dry braking distances, quiet passing noise [and] fuel-saving rolling resistance."
Meanwhile, Goodyear's EfficientGrip 2 SUV earned an "exemplary" rating in Auto Bild allrad's test (225/65R17)6. The testers commented that the tire has "well-balanced, safe driving characteristics, good aquaplaning reserves, short wet braking distances, good off-road capability [and] good comfort."
Laurent Colantonio, Regional Technology Director EMEA, Goodyear: "We are delighted to have been named Auto Bild's summer tire manufacturer of the year for a second consecutive year. The award recognises the constant pursuit of performance that we are building into every Goodyear design. Auto Bild's testing methodology is among the most thorough in the industry, both in terms of the performance criteria and the number of tires that are compared. Our current tire range represents an outstanding level of technical excellence and this award underlines the ability of our team to develop and manufacture tires that optimise vehicle performance across all summer driving conditions."
Auto Bild issue 14/23.
Auto Bild issue 15/22.
All magazine quotes translated from original German.
Auto Bild: 50 summer tires tested, dimension 225/45R18. Test car: BMW 3 Series. Issue 10/2023.
Auto Bild issue 10/23.
Auto Bild: Sommerreifen-Test 2023: 225/65 R17.