Goodyear India joins with Institute of Road Traffic Education on unique Road safety programme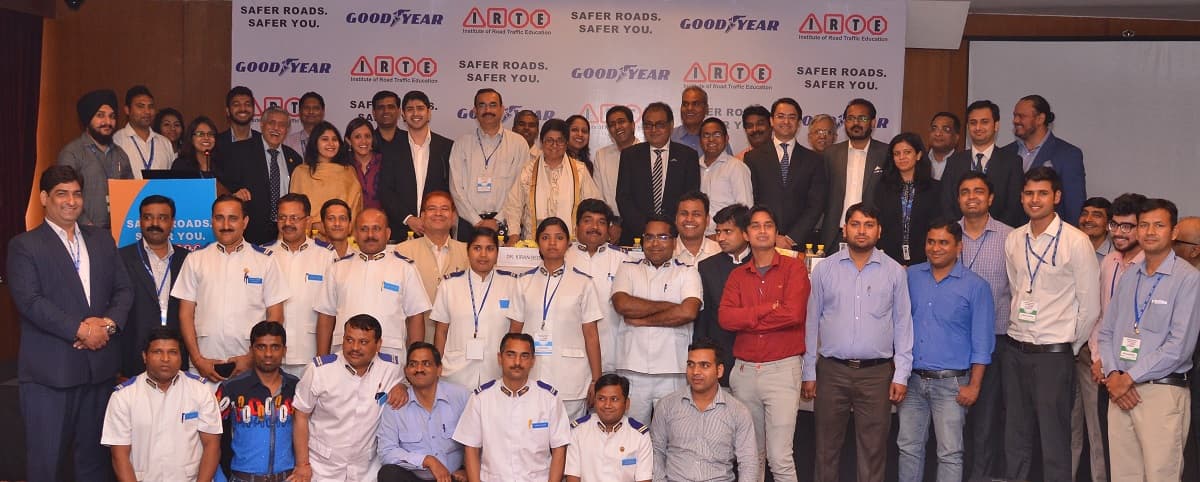 New Delhi, 14 March, 2016: Goodyear India, in association with Institute of Road Traffic Education (IRTE), has initiated a unique road safety programme, 'Safer Roads, Safer You.' The initiative is aimed at offering complimentary training to selected taxi drivers in Delhi NCR and Mumbai.
Road safety is not just about preventing accidents and reducing confrontations, but also about enhancing the overall experience whilst travelling on the roads. Improved driver training is one way of enhancing the quality of this experience. In order to curb traffic rule violations and make taxi services safer and more customer friendly, the 'Safer Roads, Safer You' initiative is aimed at supporting the fleet owners and taxi operators by training their drivers.
The focus of this initiative was to train 2,400 drivers in Delhi and Mumbai between December 2015 and March 2016. A one-day workshop was conducted for groups of 20 taxi drivers to create awareness and cover critical aspects such as defensive driving, passenger comfort and safety, vehicle maintenance, personal management and incident management. The participants were also given an incentive of Rs 500 along with a complimentary accidental death Insurance policy of Rs. 2,00,000 and a certificate on successful completion of this workshop.
"Goodyear India is committed to helping build and support collaborative programs that create positive outcomes for the people, communities and the world around us. Specifically, the company focuses on promoting safe mobility, helping to make the communities stronger & safer. With 'Safer Roads, Safer You,' we hope to create a culture of safe driving and passenger care in the taxi service industry to help increase ridership of the public transportation system, thereby benefiting the fleet owners, taxi drivers, police organizations and end-users," said Mr. Rajeev Anand, Vice Chairman & Managing Director of Goodyear India.
"We are pleased to sponsor this initiative by the Institute of Road Traffic Education (IRTE), which has an experience of more than the 15 years towards providing safer roads for users," he added.
The taxi industry plays a critical role in catering to tourism and to move passengers around the city on daily basis. Radio Taxi service has provided an important means of public transport in most mega cities, increasing their share in the numbers of light passenger vehicles.
"With our association with Goodyear India, we hope to improve the customer service standards and to control occurrences of traffic violations. This initiative will address these issues through its various workshops and will provide an opportunity to the State to regain the trust of people, especially tourists, in the taxi service and its public transportation system." said Dr. Rohit Baluja, President, Institute of Road Traffic Education (IRTE).
About Goodyear India
Goodyear's presence in India is more than 92 years old, with two tyre plants/companies, one each in Ballabgarh and Aurangabad. In the passenger car segment, Goodyear in India supplies tyres to many of the leading Original Equipment Manufacturers. Goodyear in India has been a pioneer in introducing tubeless radial tyres in this segment. In the farm segment, in India, Goodyear tyres are supplied to all the major tractor companies. For more information about Goodyear in India and its products, go to www.goodyear.co.in
About Institute of Road Traffic Education (IRTE)
IRTE is a non-profit research based organization formed in December 1991 by an interdisciplinary group of members including educationists, doctors, journalists, ex-servicemen, architects, and automobile experts and members of the police etc. with a single aim to make the Indian roads safer for those who use them. IRTE is a member of the United Nations Road Safety Collaboration and the Commission for Global Road Safety representing India. IRTE has earned a roster consultative status from the United Nations Economic and Social Council since 2010. IRTE has also been participating at the working party 1 (WP.1) of the United Nations Economic Commission for Europe (UNECE) as an observer.