Goodyear Ranks No. 1 in Customer Satisfaction
10 Jul 19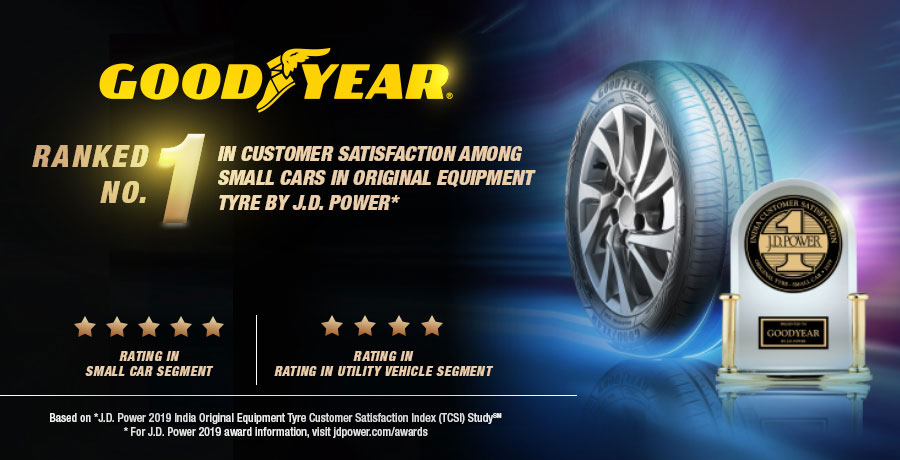 Goodyear ranked No. 1 in Customer Satisfaction in the Small Car Segment as per J.D. Power 2019 India Original Equipment Tyre Customer Satisfaction Index (TCSI) Study SM. The J.D. Power India Original Equipment Tyre Customer Satisfaction Award is the highest recognition of product quality in the automotive industry.
The study gives us a remarkable score of '856 in the small car segment' and score of '831 & 824 in midsize car segment & utility vehicle segments' respectively which clearly showcases our strong quality performance.
The J.D Power customer study measures satisfaction among original equipment tyre owners during the first 12 to 36 months of ownership across four key factors (listed in order of priority): Wear, ride, traction/handling and appearance.
This study is based on 3,598 responses from new-vehicle owners who purchased their vehicles between March 2015 and August 2017 and was conducted from March through August 2018.
About J.D Power
J.D. Power is a global leader in consumer insights, advisory services and data and analytics, which was established in 1968 and has offices across North America, South America, Asia Pacific and Europe. For more details on J.D Power India, please visit – https://india.jdpower.com/
Link to Source
https://www.jdpower.com/business/press-releases/jd-power-2019-india-original-equipment-tyre-customer-satisfaction-index-tcsi-study