GOODYEAR ASSURANCE DURAPLUS 2
The Assurance DuraPlus 2 gives you the freedom to go further with TredLife Technology.
TredLife Technology featuring an innovative tread design and compound allows your tires to go further with extended mileage performance
A highly durable sidewall increases tire robustness to better resist sidewall impacts
New tread pattern design and construction combine to minimize interior noise throughout tire life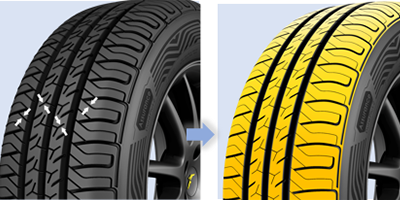 Innovative Tread Design And Cavity
New symmetrical tread pattern designed with a wider cavity shape and narrower grooves, increases wearable rubber volume. This ensures a longer lasting tread life
Innovative Tread Design
Symmetrical tread pattern design gives greater flexibility in tire rotation thereby improving tire lifespan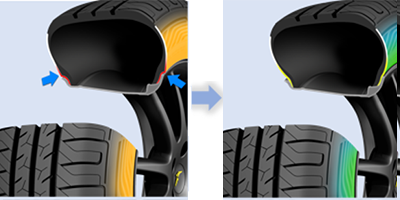 Enhanced Cavity Shape
Enhanced cavity shape enables a more squarish and balanced footprint to maintain a larger contact patch and reduces contact pressure. This leads to extended mileage performance.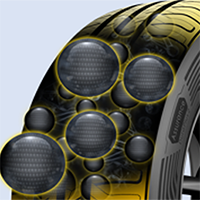 Re-formulated Long Lasting Compound
A re-formulated compound with high wear resistance to deliver longer lasting mileage performance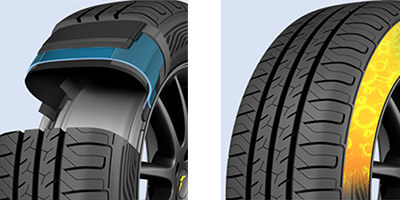 Enhanced Sidewall
Built with 2 layers of high modulus low shrinkage ply material in the sidewall to ensure better resistance against external impacts.
The sidewall compound is further upgraded to enhance long term resistance against environmental influences.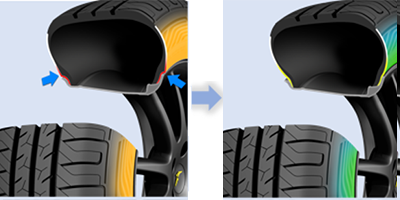 Re-formulated Long Lasting Compound
Enhanced cavity shape at the lower sidewall area reduces the stress and strain within the tire

Innovative Tread Design
Narrower lateral grooves and closed design reduced the noise caused by air pumping
Optimized groove angles and pitch sequence to reduce impact noise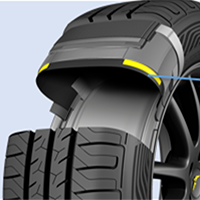 Added Dampening Rubber Strips

Rubber strips are added between the ply and the liner to dampen tire noise throughout the life of the tire.
*Tests conducted by Goodyear in Thailand on hard surfaced roads. For sizes 185/65R14 and 205/55R16, average performance of the new Assurance Duraplus 2 is expected to achieve 110,000 km on good quality roads of similar condition (size 155/80R13 is expected to achieve 99,000km). Actual mileage may vary due to factors including but not limited to type of terrain, quality of roads, vehicle type and condition, tire pressure and maintenance, climate, driving styles, usage patterns, etc. All tyres are manufactured and sold as per applicable BIS Standards.
| Size | Load Index | Speed Rating | Key Vehicle Fitments |
| --- | --- | --- | --- |
| 145/70R13 | 71 | T | Maruti Zen, Maruti Estilo, Fiat UNO |
| 145/80R13 | 75 | T | Maruti Wagon R |
| 155/65R13 | 73 | T | Maruti Estilo, Maruti Alto K10, Maruti Wagon R |
| 155/70R13 | 75 | T | Hyundai EON, Hyundai Santro, Chevrolet Spark, |
| 155/80R13 | 79 | T | Datsun GO, Datsun Redi-GO, Hyundai Santro (new), Hyundai i10, Hyundai Getz Prime, Maruti Wagon R (new), Maruti Celerio, Maruti A Star, Maruti Esteem, Maruti Versa, Nissan Micra, Nissan Micra Active, Chevrolet Aveo, Chevrolet Aveo UVA, Renault KWID, Tata Tiago, Tata Tigor, Tata Indica, Tata Indica EV2 |
| 175/70R13 | 82 | H | Ford ICON, Honda City, Hyundai Accent, Hyundai Getz Prime, Maruti Esteem, Tata Indica Vista, Tata Indica Vista Safire |
| 155/65R14 | 75 | T | Maruti Wagon R, Maruti Stingray |
| 165/80R14 | 85 | T | Fiat Punto, Fiat Punto EVO, Maruti Swift, Maruti DZIRE, Maruti Ritz, Nissan Evalia |
| 205/65R15 | 99 | H | Chevrolet Tavera, Honda Accord, Mahindra XYLO, Mahindra Quanto, Toyota Innova |