Goodyear Assurance TripleMax Tyre
Maximum Braking Ability, Maximum Wet Grip & Maximum Control. Goodyear Assurance TripleMax – an original equipment tyre , is a tubeless tyre that has been designed to offer excellent braking ability & improved fuel efficiency. A practical tyre for uncertain Indian driving conditions where access to great braking can make a difference. Power braking in wet road conditions is a benefit that sets this tyre apart.
MILEAGE(TYRE LIFE IN KMS)
DURABILITY
DRY BRAKING
WET PERFORMANCE
QUIET & COMFORT
FUEL EFFICIENCY
HANDLING/CORNERING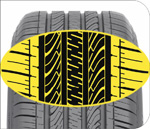 Outstanding Braking
Biting edges with large block elements provides, increased contact area for extra security when braking.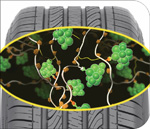 Maximum wet grip
Innovative polymer tread compound with improved molecular bonding brings grip to a whole new level.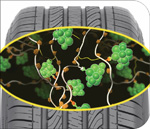 Improved Fuel Economy
Saves fuel consumption.
• Functionalized Polymer Tread Compound: High molecular bonding provides lower  running temperatures, reduces the tyre rolling resistance.
• FEA Neutralized Stress Ply Line: Provides reduced internal components stresses and  internal friction for cooler running tyre.
• Wide Faced Cavity: Provides large surface contact area and evenly distributes pressure under normal driving conditions, reduces rolling friction.
175/65R15 84 T
185/70R14 88 T
185/65R15 88 H
185/60R15 84 H
195/65R15 91 V
195/55R16 87 V
205/65R16 95 H
215/60R17 96 H